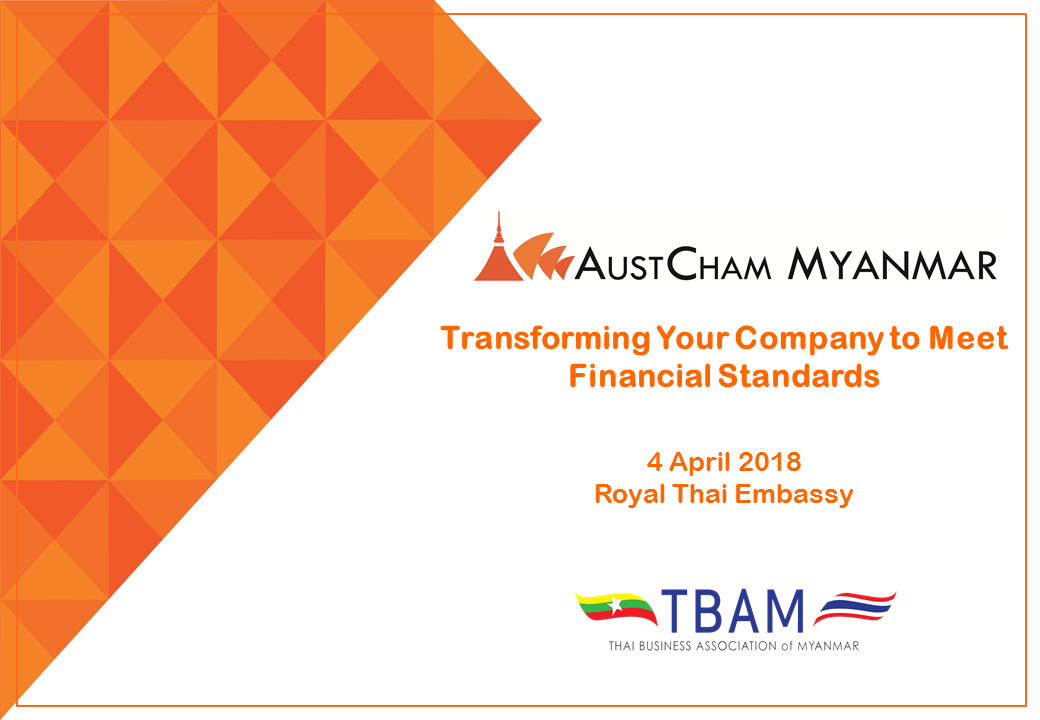 Transforming Your Company to Meet Financial Standards seminar
Venue:
Transforming Your Company to Meet Financial Standards seminar
Wednesday, April 4, 2018 - 08:30
On Wednesday 4th April, AustCham Myanmar and Thai Business Association of Myanmar will be hosting a joint seminar- "Transforming Your Company to Meet Financial Standards".
Please join us for the breakfast seminar where our speakers will share highly valuable information and useful tips on the financial sector. 
Topics of discussion will include:
- Transforming your company into a company banks want to lend to
- An introduction to financial statements
- International Financial Reporting Standards - its relevance and impact to local/SME companies 
When: Wednesday, 4 April 2018 l 9:00am-12:00pm
Where: Royal Thai Embassy, No.94, Pyay Road,Dagon Township,Yangon
Cost: Free for member of AustCham and TBAM /20,000MMK for non-member 
Our Speakers:
Kim Chawsu
Ms. Kim Chawsu is a finance and banking expert with local and international experience. She is also trainer for International Finance Corporation (IFC) and Institute of Directors (IoD Thailand).
Kim worked as a Group Chief Financial Officer (CFO) at Kanbawza Group of Companies which is one of the largest conglomarate in Myanmar. Previously, she was a Managing Director and Head of International Banking Division and Transformations at Kanbawza Bank.
During her time at KBZ, she has been instrumental in cementing and strengthening relationships with Financial Institutions which included licensed foreign banks and representative offices in Myanmar. Kim was also responsible for implementing strategic vision set by the Chairman and the Board of KBZ.
Kim qualified as Chartered Accountant from New Zealand & Australia and holds a dual membership with Institute of Chartered Accountant England and Wales (ICAEW). She is also a Fellow Director with the Thai Institute of Directors.  She spent over 17 years working in external audit and financial services in New Zealand and London.
During her time in New Zealand, she worked at the Office of the Auditor General (OAG). At OAG, she advised audit clients on changes in government and sector related regulations as well as an early adoption of New Zealand IFRS 2003.
In London, she worked in regulatory role at Goldman Sachs, external reporting for Global Banking & Markets at HSBC, Regulatory reporting at Deutsche and was responsible for Activity Based Costing projects at Citi Bank. Kim has worked with some of the world's regulators including Financial Services Authority (FSA), Federal Financial Services Authority (Bafin) and the Fed.
Belinda Neo
Director, Rish Assurance, PWC Myanmar
Belinda has more than 15 years experience in PwC Singapore and also in Hong Kong through a secondment. Currently, she spends her  time in Myanmar to support companies and businesses in Myanmar with their assurance, financial reporting and internal controls needs and requirements.
Belinda is the team leader for several internal control review, IFRS workshops and accounting advisory engagements in Myanmar. She has also led global and regional audits of local multinational corporations as well as is experienced in initial public offerings.
Belinda also previously led the Singapore Assurance service group for government and public sector entities, providing assurance services to some of the biggest public service providers for housing, education and social and economic development.